Thanks to its incredible flexibility, WordPress has become the most widely used content management system in the world. But in recent months attacks on WordPress websites have increased at an unprecedented rate. Here are some steps you can take to protect your WordPress website from hackers.
Continue reading How To Protect Your WordPress Website.
Buttercups Pre School is a charity run nursery based in Stafford. Here is a promotional flyer we designed for them back in 2016.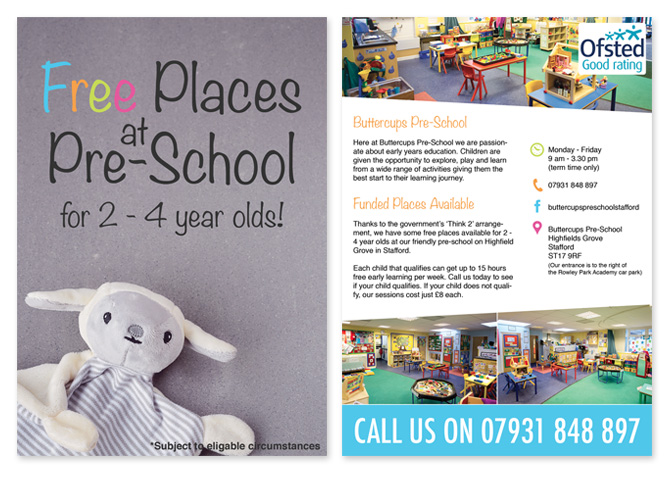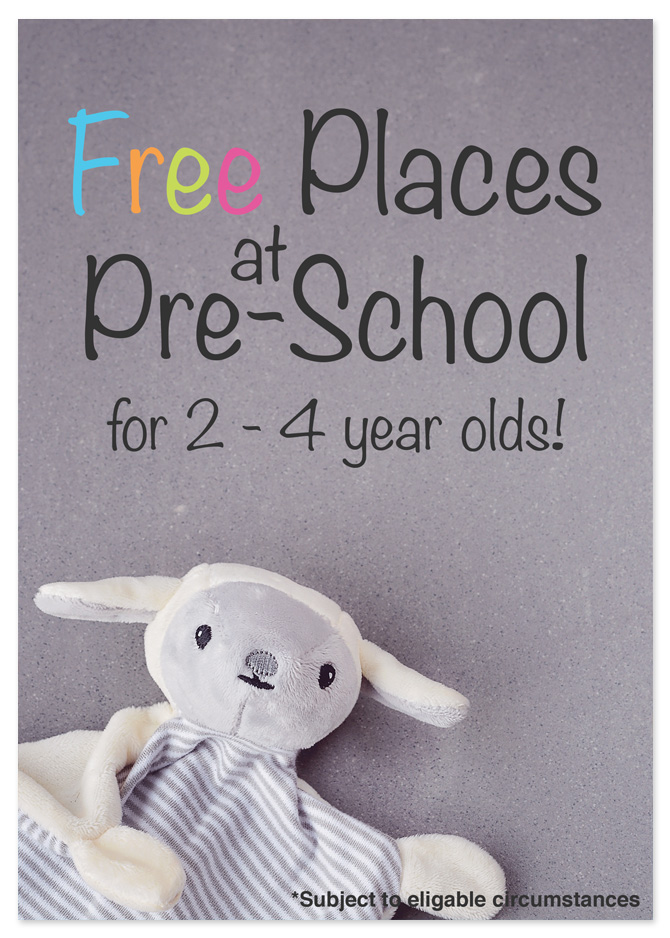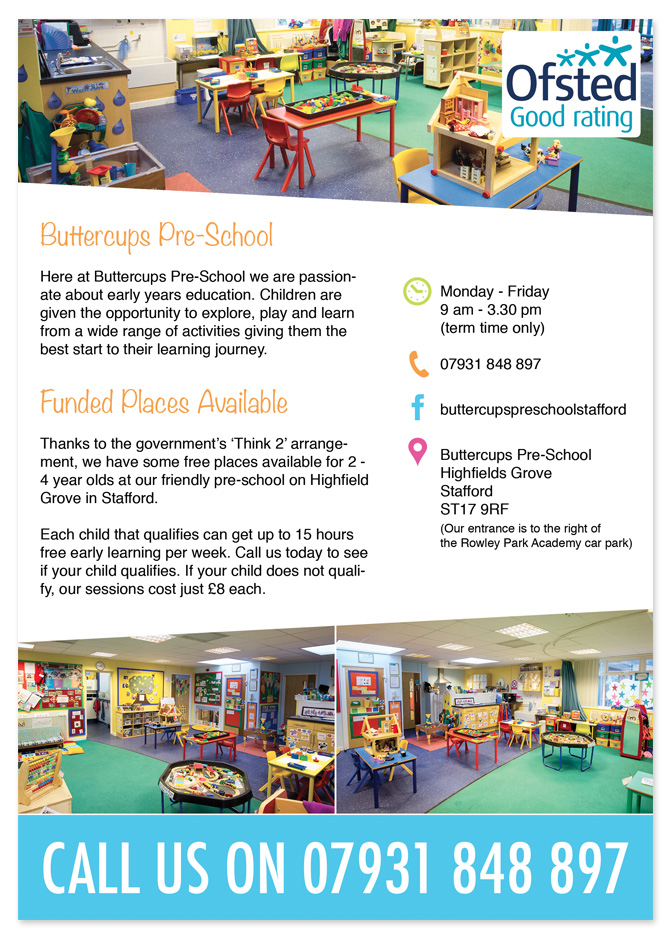 Date of design: November 2016
← Click here to go back to our portfolio
As a new year begins, many around the world are taking part in the old tradition of setting New Years resolutions. Some you are setting new business goals, others are trying to get fit and some of you are embarking on inspiring challenges to make the world a better place.  Continue reading Doing Our Part to Protect The Environment.
Over the past couple of months we have worked with Drum Motors and More in Loughborough to redesign their website. We worked with them to evaluate the needs of their potential clients and create an online marketing plan for their new website. They had a list of elements that were important to them. The result is the new website below.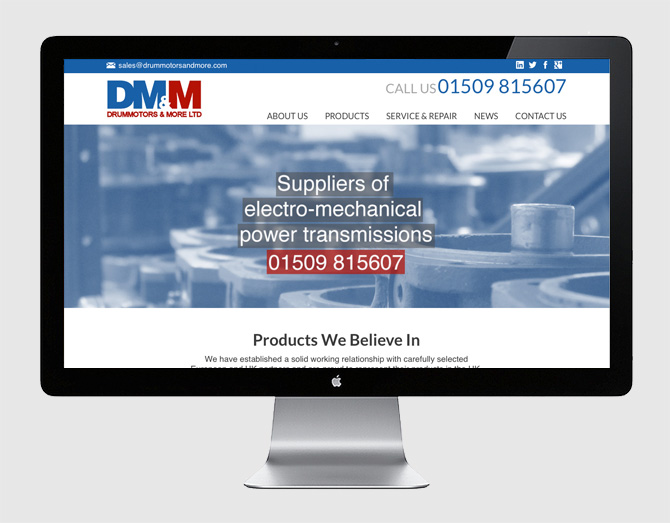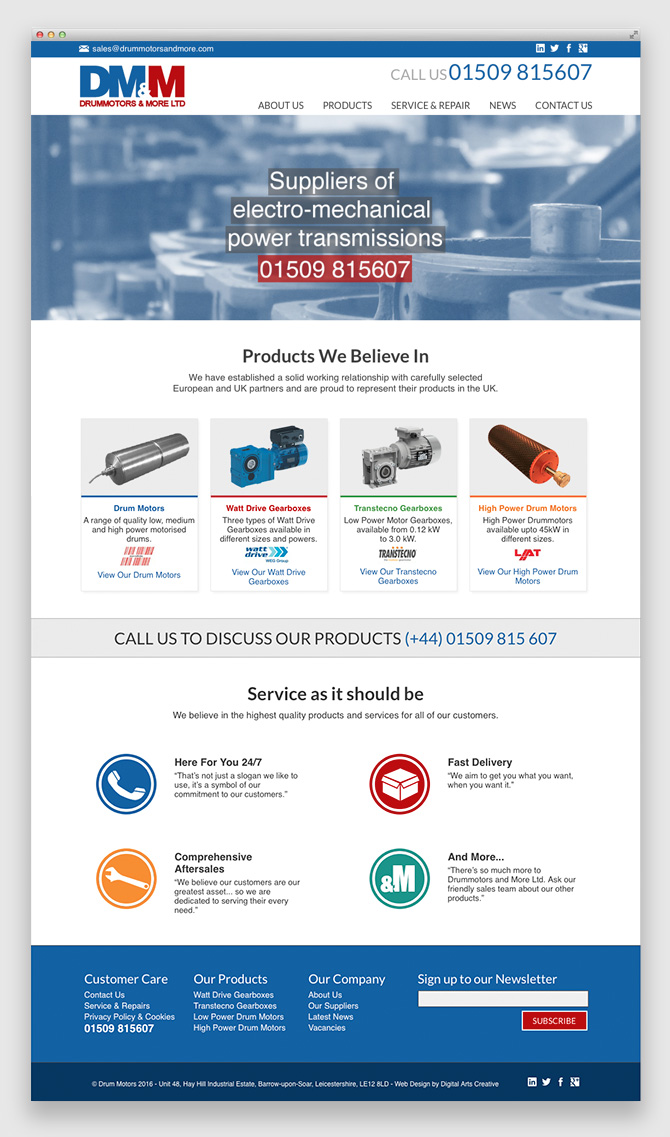 Date of Website Launch: 24 March 2015
Website Address: www.drummotorsandmore.co.uk
← Click here to go back to our portfolio
We truly believe that blogging is a great way to market your business and build relationships with existing and potential clients. However many of the businesses we meet shy away from blogging, worrying that it involves too much of a time commitment or that it is not right for their business. So over the past few weeks, we have challenged ourselves to research and come up with 49 different reasons why your business should be blogging… Continue reading 49 Reasons To Blog.
David Carson has to be one of the best known graphic designers in the world. His work has inspired and influenced hundreds of thousands of designers around the world, including us here at Digital Arts Creative.
From studying him at college to watching his seminars though out our professional careers, he has always been an icon in the design world. New York based production house Dress Code recently shot a short documentary about his life in the Caribbean as a surfer and designer. We couldn't miss this chance to share this video with you all.
Please note that this article is from back in 2015 and thus does not reflect current trends. Our current advice to all of our clients is to try and move across to a mobile friendly website. We will be releasing a new article with the latest considerations in the near future.
Over the past week or two, many of our clients from Leicester, London and Stafford have been asking us about the impact of what has been dubbed 'Mobilegeddon'. The media have really blown Google's latest algorithm change out of proportion and many web designers and developers have used it as a scare tactic to push some businesses into spending huge amounts on new mobile friendly websites. So what is the truth about Google's new mobile friendly algorithm? Continue reading Should You Fear Mobilegeddon? Do You Need A Mobile Friendly Website?.
An estimated 34,000 SME's will be affected by new EU laws that changes the way VAT is applied to the sales of digital products. Even if your sales are less than the current VAT threshold of £81,000 per year, these new laws could affect your business.
From 1 January 2015, sales of digital products will have VAT applied in the country where the products are bought rather then the country where they are sold. This will apply to any digital product from ebooks and videos to digital frameworks and online courses.  Continue reading New EU VAT Law For Selling Digital Products.
Last month we launched the new website for Image Surgeons, the Leicester based shop that produces personalised photo  goods. Our client wanted a colourful yet minimalistic design.
The result was a contemporary design that promotes the quality of the raw materials used to create their products as well as the unique personal touch that comes with their customer service. We also created a bespoke e-commerce shopping system for the new website that not only allowed users to add products to a cart and check-out, but also to upload their photos to personalise each product. This bespoke system also made it easy for our client to edit and update the website as well as tracking and processing orders.
The project also included a photography session where we spent a day shooting promotional photographs of the products, shop, staff and the processes they use to create products.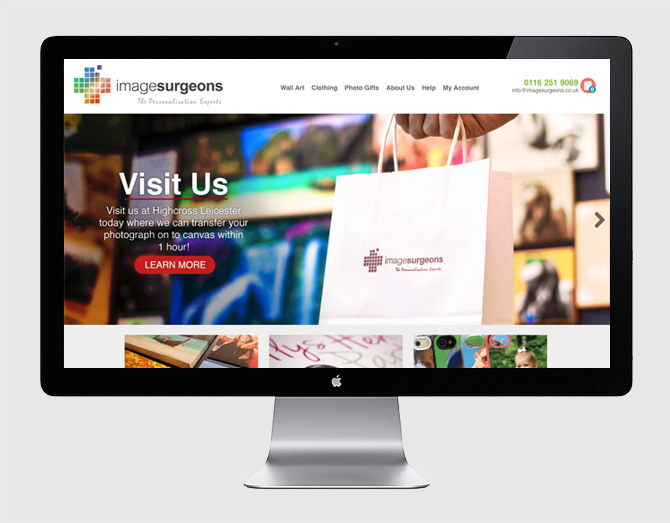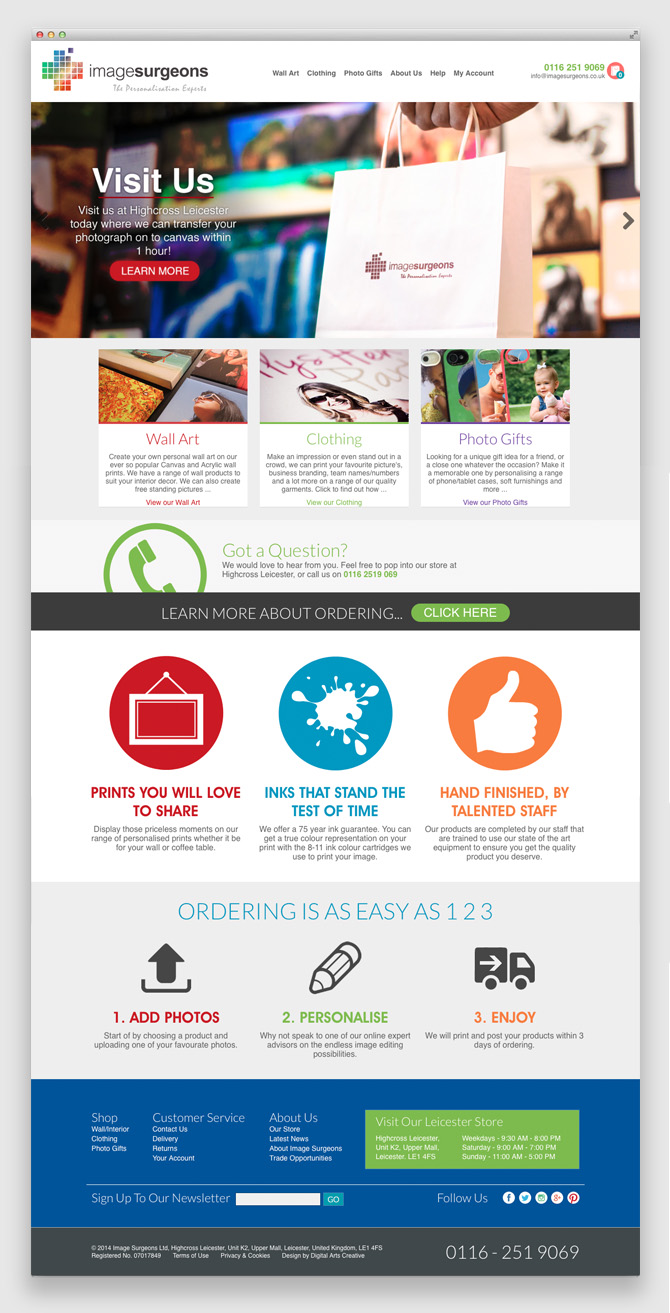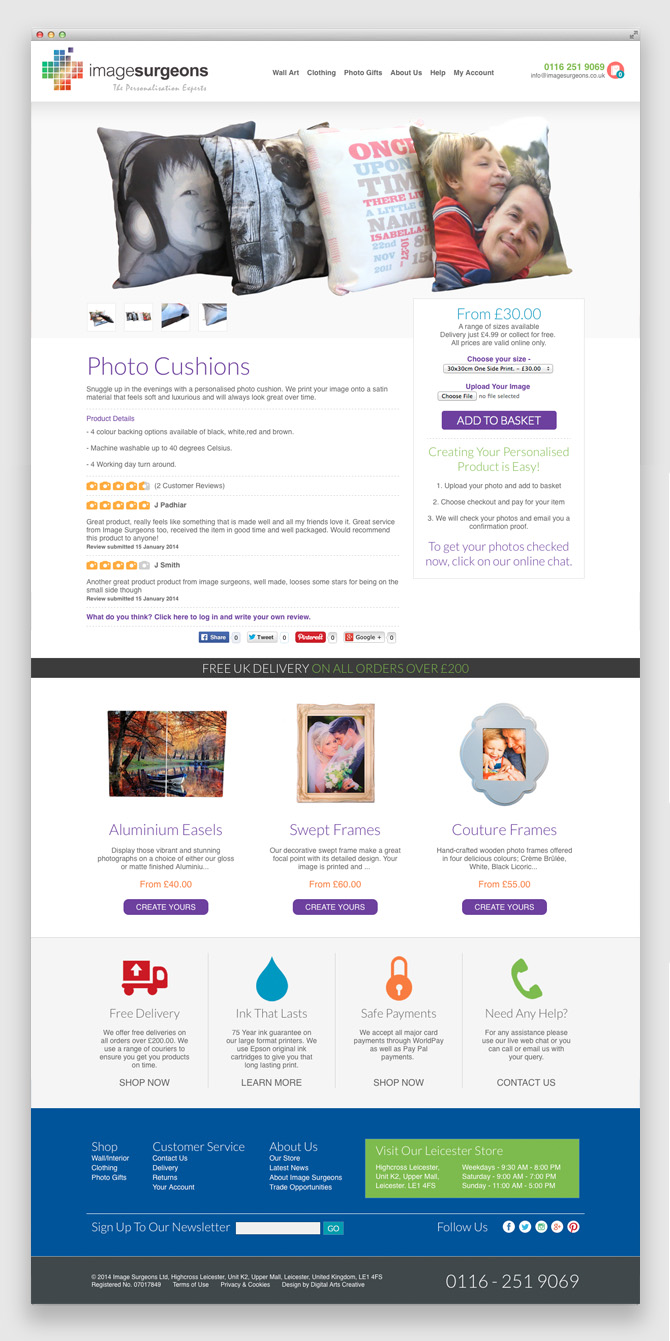 Date of Website Launch: 26 September 2014
Website Address: www.imagesurgeons.co.uk
← Click here to go back to our portfolio
Today we are happy to announce the launch of a newly redesigned website for the Nottingham Arimathea Trust. As a Nottingham based charity, they work hard to help destitute and vulnerable asylum seekers and refugees throughout Nottingham and the East Midlands.
The Old Website
The Nottingham Arimathea Trust's old website (pictured below) had some major issues. Some of the pages didn't work and none of their staff knew how to update and maintain the website. Information was hard to find and did little to promote the charity or it's cause.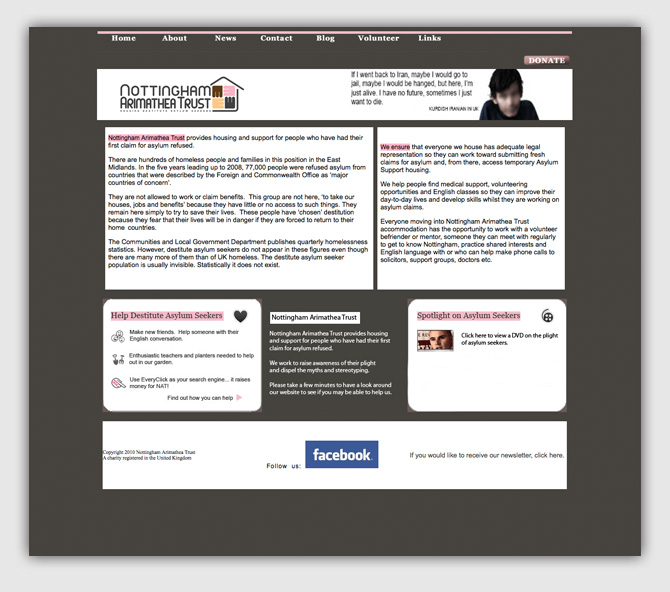 The New Website
We worked with the charity to create a modern and clean website that was easy to navigate, follow and update. It is now easier for visitors of the website to donate, volunteer or get help and it now integrates very well with the various different social media platforms that the charity already used. The trustees of the charity are delighted with new website and subsequently asked us to design a popup banner for use at exhibitions (also pictured below).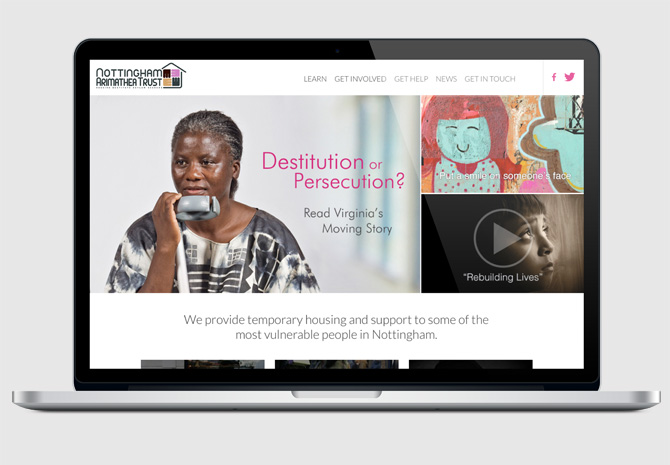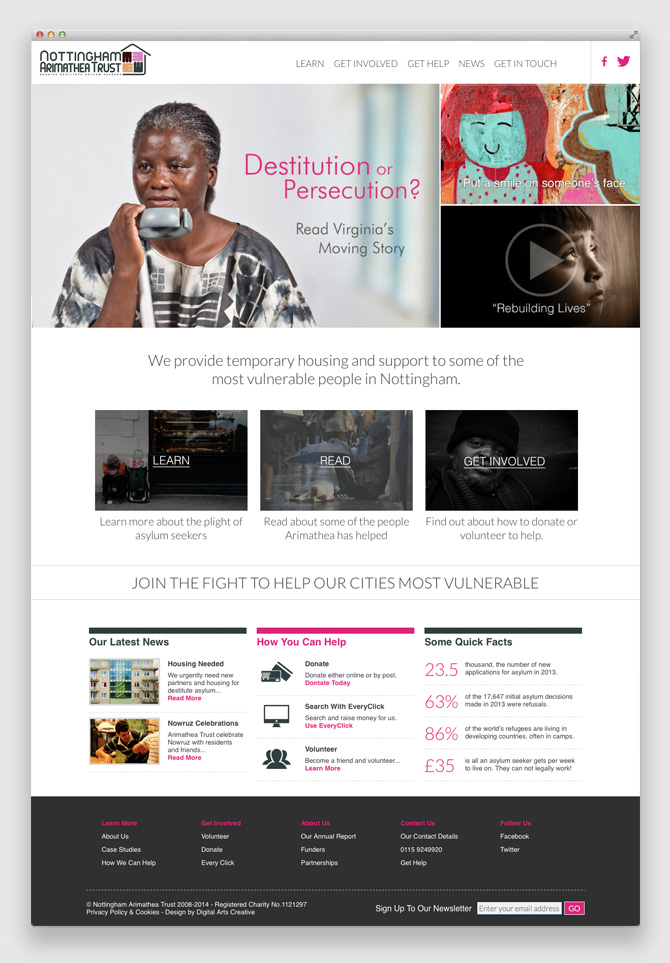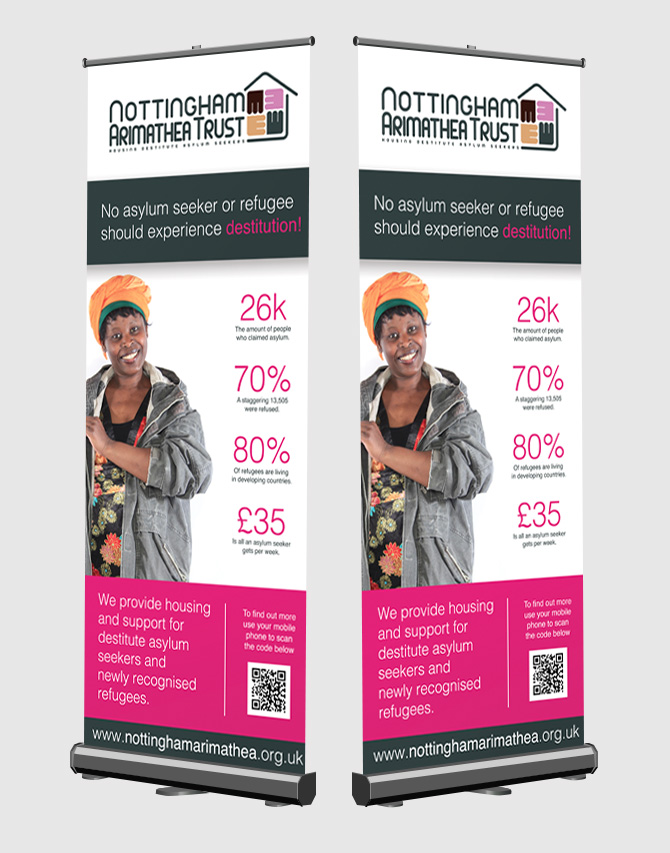 Date of Website Launch: 06 September 2014
Website Address: www.nottinghamarimathea.org.uk
← Click here to go back to our portfolio