Thanks to its incredible flexibility, WordPress has become the most widely used content management system in the world. But in recent months attacks on WordPress websites have increased at an unprecedented rate. Here are some steps you can take to protect your WordPress website from hackers.
Continue reading How To Protect Your WordPress Website.
Please note that this article is from back in 2015 and thus does not reflect current trends. Our current advice to all of our clients is to try and move across to a mobile friendly website. We will be releasing a new article with the latest considerations in the near future.
Over the past week or two, many of our clients from Leicester, London and Stafford have been asking us about the impact of what has been dubbed 'Mobilegeddon'. The media have really blown Google's latest algorithm change out of proportion and many web designers and developers have used it as a scare tactic to push some businesses into spending huge amounts on new mobile friendly websites. So what is the truth about Google's new mobile friendly algorithm? Continue reading Should You Fear Mobilegeddon? Do You Need A Mobile Friendly Website?.
Last month we launched the new website for Image Surgeons, the Leicester based shop that produces personalised photo  goods. Our client wanted a colourful yet minimalistic design.
The result was a contemporary design that promotes the quality of the raw materials used to create their products as well as the unique personal touch that comes with their customer service. We also created a bespoke e-commerce shopping system for the new website that not only allowed users to add products to a cart and check-out, but also to upload their photos to personalise each product. This bespoke system also made it easy for our client to edit and update the website as well as tracking and processing orders.
The project also included a photography session where we spent a day shooting promotional photographs of the products, shop, staff and the processes they use to create products.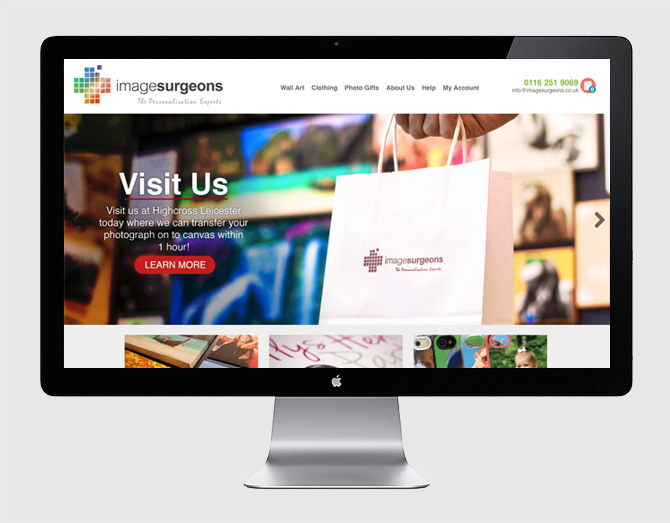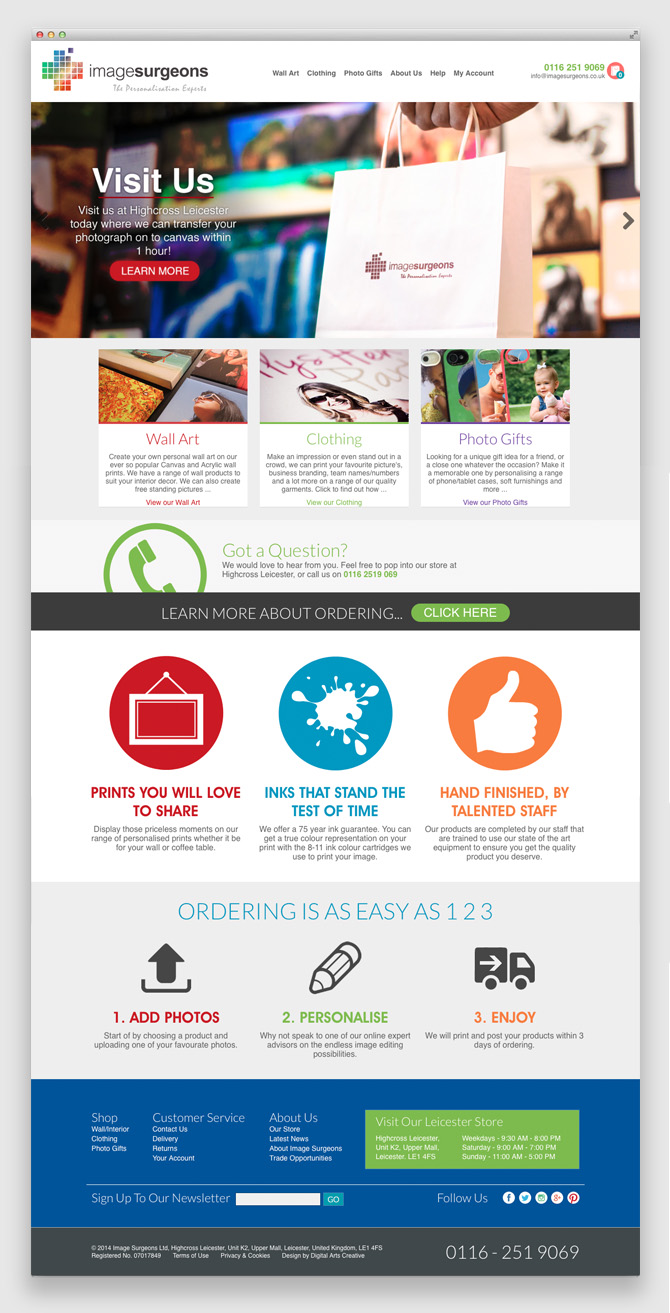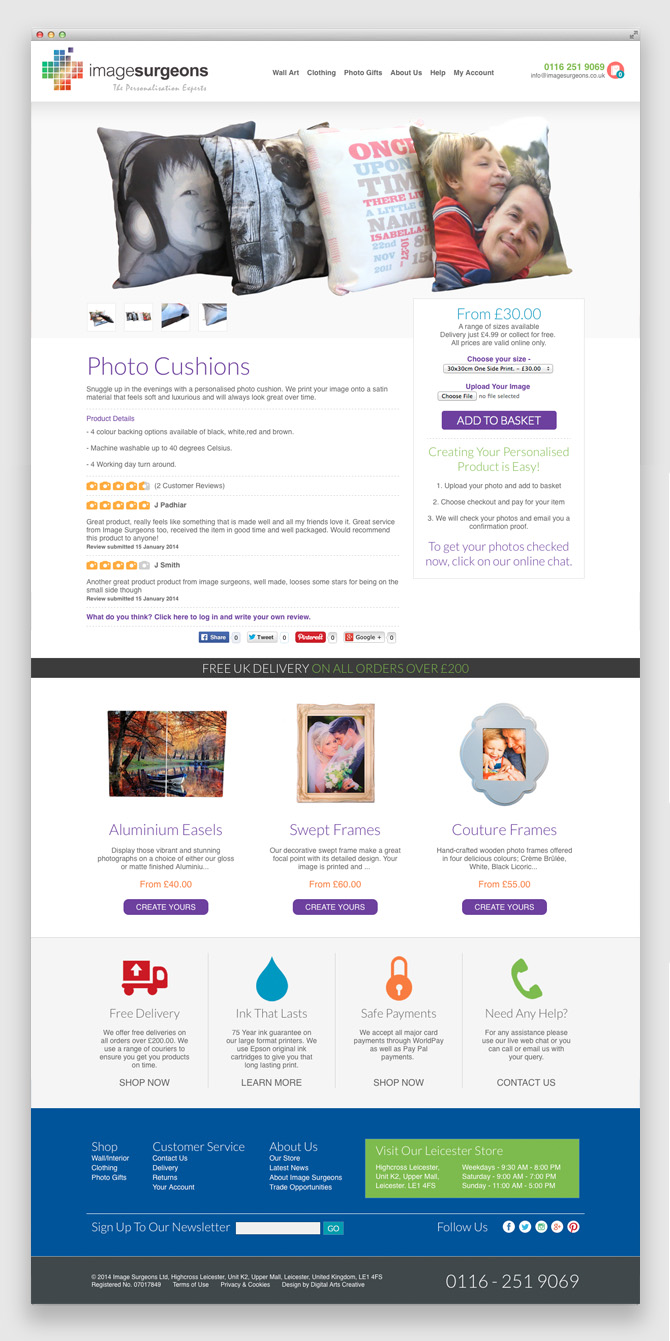 Date of Website Launch: 26 September 2014
Website Address: www.imagesurgeons.co.uk
← Click here to go back to our portfolio
Today we are happy to announce the launch of a newly redesigned website for the Nottingham Arimathea Trust. As a Nottingham based charity, they work hard to help destitute and vulnerable asylum seekers and refugees throughout Nottingham and the East Midlands.
The Old Website
The Nottingham Arimathea Trust's old website (pictured below) had some major issues. Some of the pages didn't work and none of their staff knew how to update and maintain the website. Information was hard to find and did little to promote the charity or it's cause.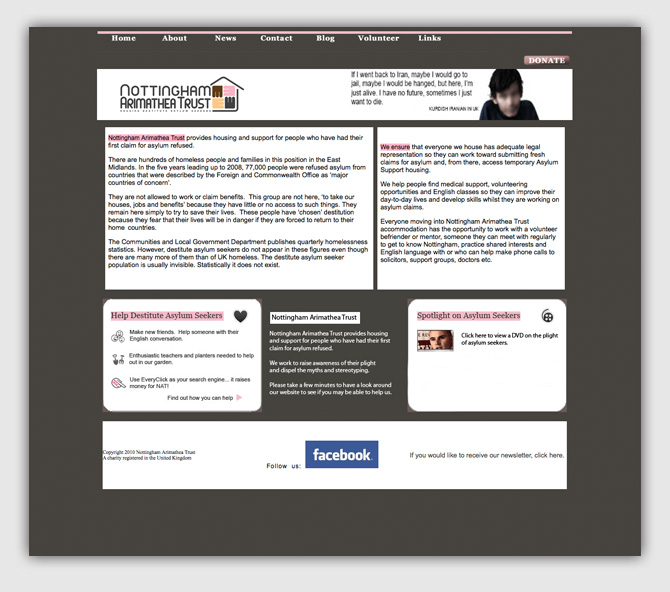 The New Website
We worked with the charity to create a modern and clean website that was easy to navigate, follow and update. It is now easier for visitors of the website to donate, volunteer or get help and it now integrates very well with the various different social media platforms that the charity already used. The trustees of the charity are delighted with new website and subsequently asked us to design a popup banner for use at exhibitions (also pictured below).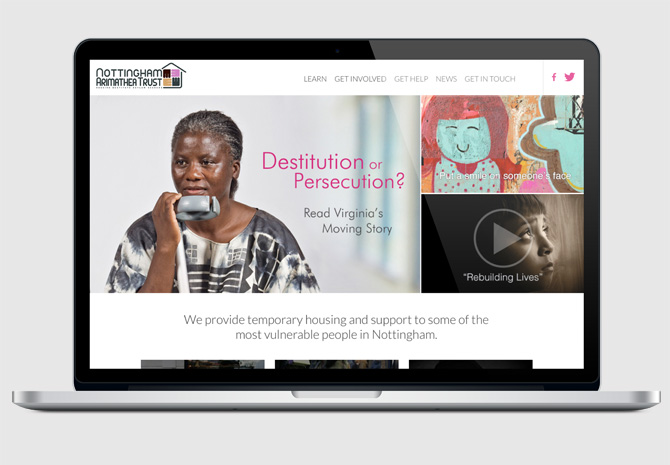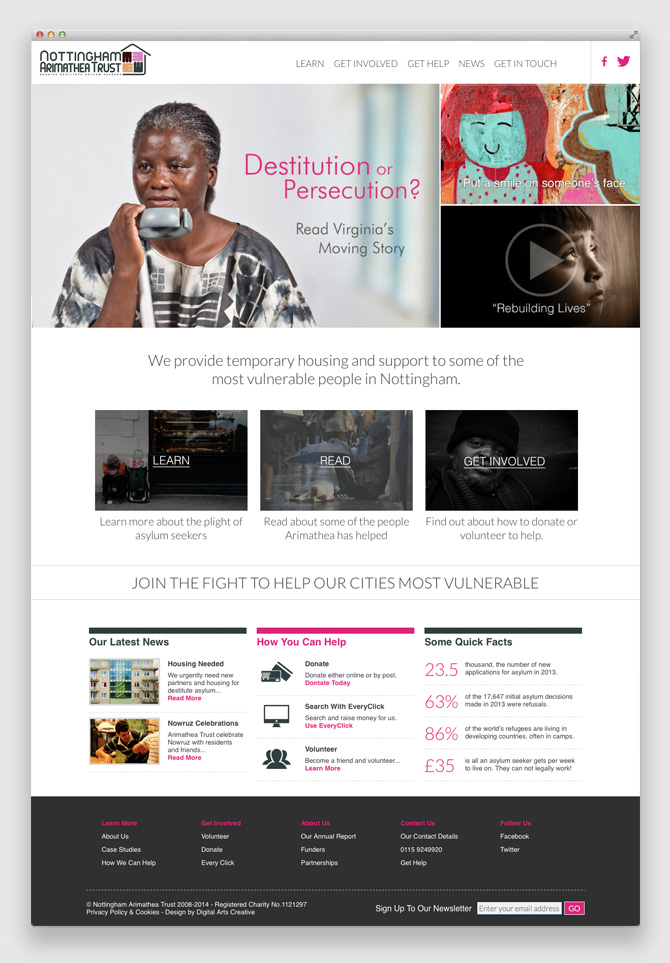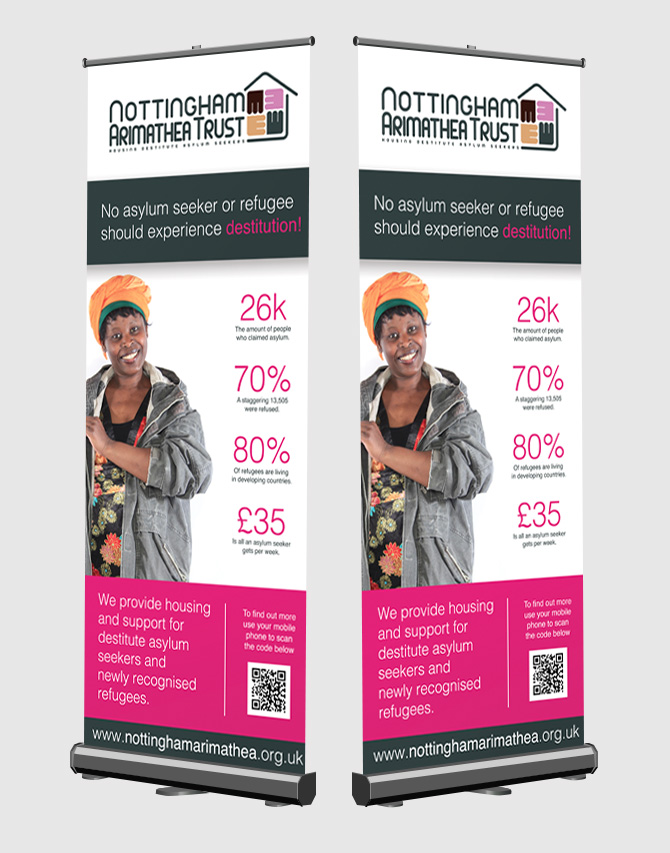 Date of Website Launch: 06 September 2014
Website Address: www.nottinghamarimathea.org.uk
← Click here to go back to our portfolio
Today we are happy to launch a new site for the Twycross House School. They were wonderful to work with and we are really happy with the result, a vast improvement from their last website.
The Old Website
The old website (below) had become a little tired and dated. The school were finding it increasingly difficult to update the site and it was no longer filling their needs.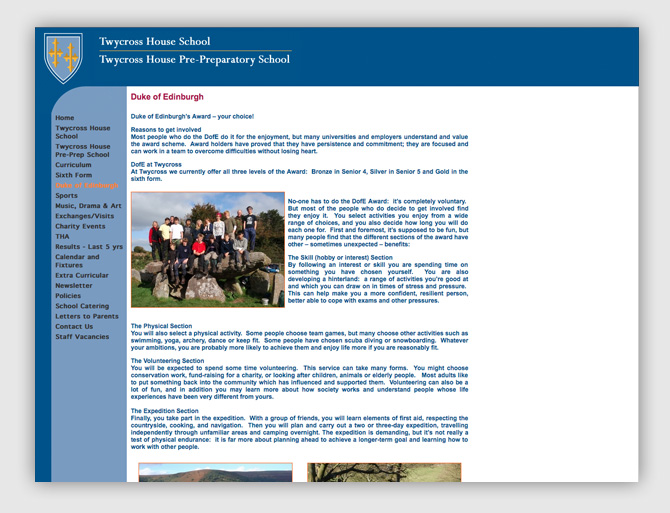 The New Website
We worked with the school to create the website you can see above. It features a more modern and simple design that easy to explore and promotes the school and it's activities more effectively. We also integrated a very easy to use content management system that makes it easy for the school to make changes to the site and it's content.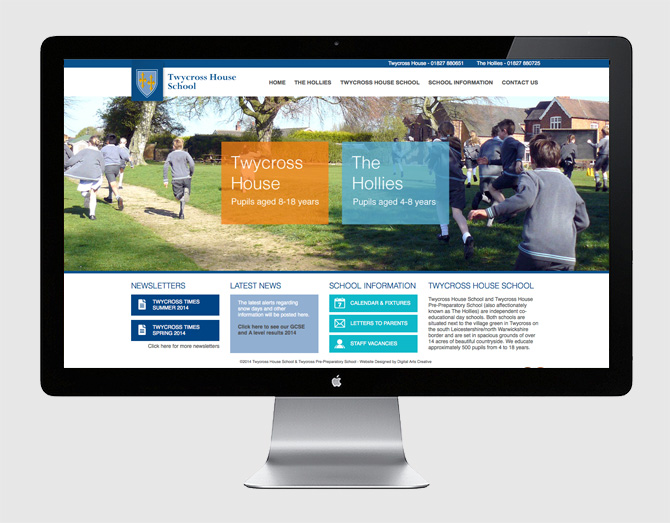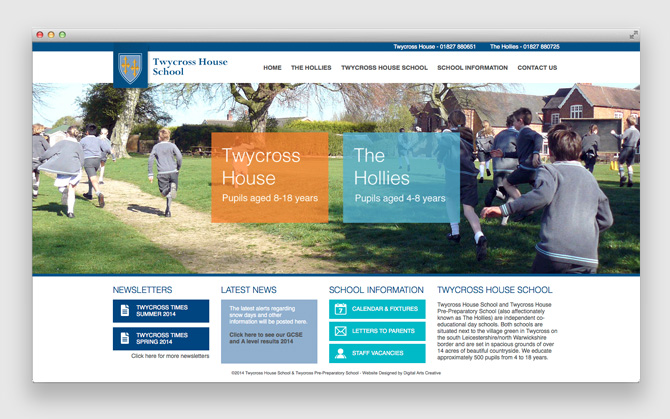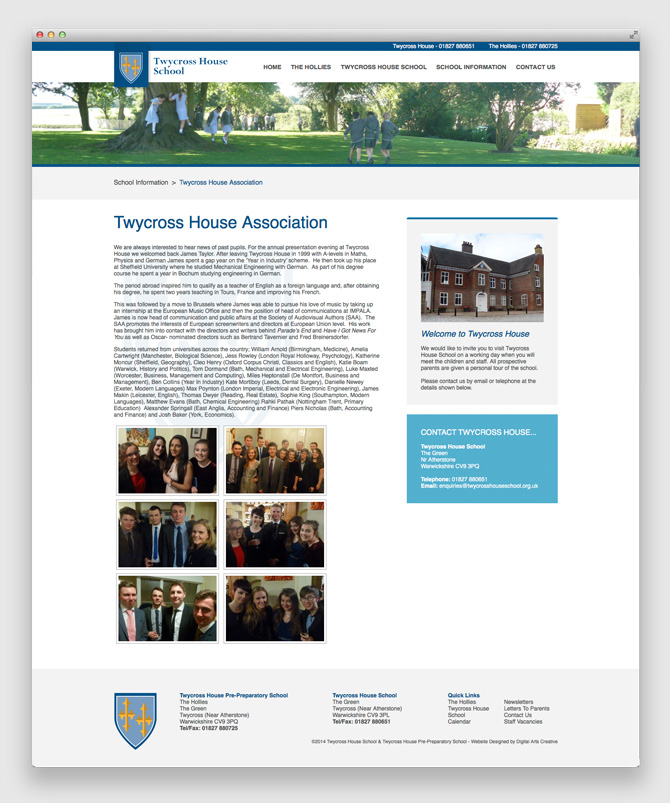 Date of Website Launch: 15 January 2014
Website Address: www.twycrosshouseschool.org.uk
← Click here to go back to our portfolio
Three big high street retailers have gone into administration this week and it's only Thursday. This follows a scary pattern which has been developing over the past few months whereby big iconic brands have been disappearing overnight. Unfortunately it doesn't look like this pattern is going to stop any time soon.
Continue reading The Importance of Change.
On May 26 a new European Law came into effect in Britain. Nicknamed the cookie law, it effects nearly every British website. I am no lawyer and thus can not give any legal advice, however I can explain a little more about the law and show what other websites are doing to implement it.
Continue reading The New EU Cookie Law Explained.
It was the famous writer and aviator Antoine de Saint Exupery who once wrote "Perfection is achieved, not when there is nothing more to add, but when there is nothing left to take away." Simplicity is essential when it comes to good design for your business.
A simple design catches the eye and appeals to the persons curiosity, whereas a cluttered design can look daunting, boring and turns people away. It is no coincidence that the most memorable designs, be it logos or websites, are the most simple.
Continue reading Why Simple Really is Best.
What is the +1 Button?
Google have recently released their latest attempt at social media, the +1 button. They themselves describe the button as shorthand for "this is pretty cool" and "you should check this out". The button will soon start to show up next to search results and on websites across the web.
When you +1 something, you associate your name with the link, recommending it to friends and family. It shows up on your Google Profile, which is required to use the +1 button, and also on the search results of your contacts (including those in Gmail and any linked social networks such as Twitter).
Continue reading Show Your Website Some Love with Google +1.
You may have heard or read somewhere that all our websites are made to W3C standards. But what are they? W3C stands for The World Wide Web Consortium, an international group that work together to develop Web standards. Designers across the globe endeavor to work to such standards, but what are the benefits?
Websites made the W3C standards have less unnecessary code and thus have considerably lower loading times. This makes websites more friendly to users on slow internet connections, or hand held devices like mobile phones.
Continue reading W3C Explained.